NNHS, Ready to go International!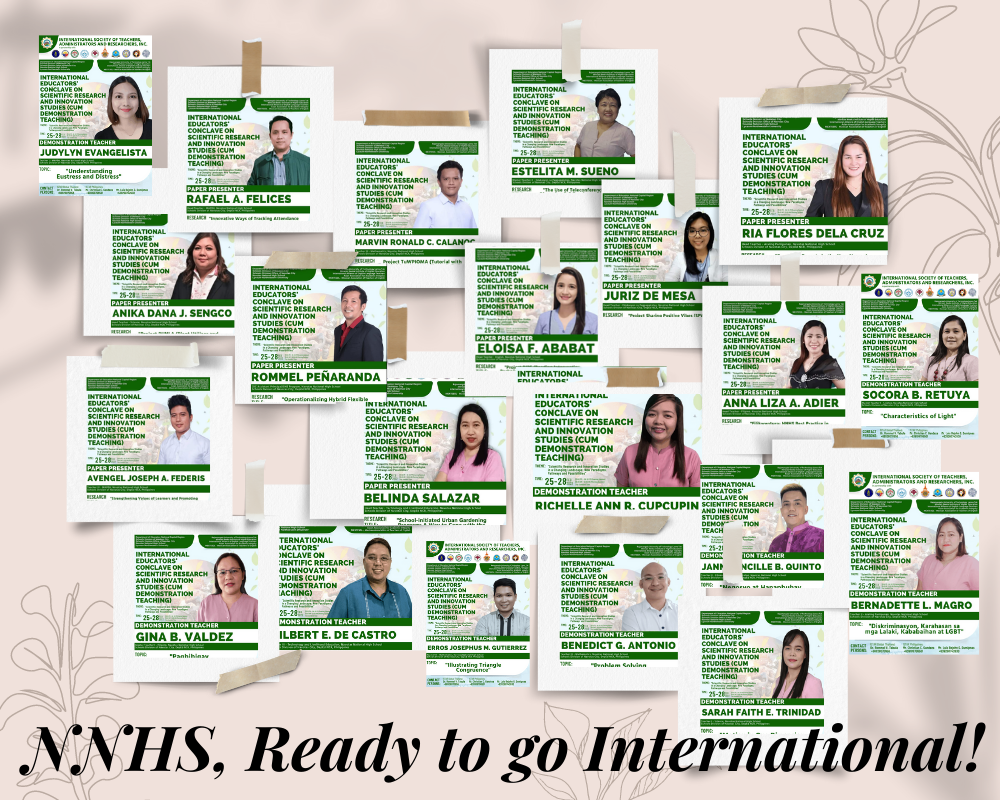 Navotas National High School is not just a school of choice for its learners and parents but an institution ready to take upgraded level of engagements locally and even internationally.
In the recent dates from February 25-28, 2022, NNHS is pleased to feature and share with you an International Engagement where number of participants, collaborators and demonstrators are directly from the institution. The said event was administered by International Society of Teachers, Administrators and Researchers (ISTAR) with the theme "Scientific Research and Innovation Studies in a Changing Landscape: New Paradigms, Pathways and Possibilities".
In line with this there are Paper Presentations, Research Discussions and Teaching demonstrations from the selected Heads, Master Teachers and Teachers of NNHS. Some of the Paper presenters are Mr. Rommel Peñaranda, Ms. Eloisa Ababat, Ms. Ria Dela Cruz, Ms. Juriz De Mesa, Ms. Anika Dana Sengco, Ms. Anna Liza Adier, Ms. Belinda Salazar, Ms. Estelita Sueno, Mr. Rafael Felices,  Mr. Marvin Ronald Calanoc and Mr. Avengel Joseph Federis.
On the other hand, among the Demonstration Teachers are Ms. Richelle Ann Cupcupin, Ms. Gina Valdez, Ms. Bernadette Magro, Ms. Judylyn Evangelista, Ms. Socora Retuya, Ms. Sarah Faith Trinidad, Mr. Jann Rencille Quinto, Mr. Benedict Antonio, Mr. Erros Josephus Gutierrez and Mr. Gilbert De Castro.
This is made possible through the outmost help and guidance from NNHS' dearest Principal, Dr. Marco Meduranda, OIC Assistant Principal Sir Rommel Peñaranda and the rest of the team. 
It is a fact that NNHS is beyond ready to excel and make its marks in International conferences. Having extra is being extraordinary and that builds a character that speaks progress and productivity. It ensures and shows that the institution is ready to continuously go beyond local to global.